Who receives the most Valentine's Day Cards?
A) Wives
B) Mothers
C) Children
D) Teachers
Email your answer to [email protected]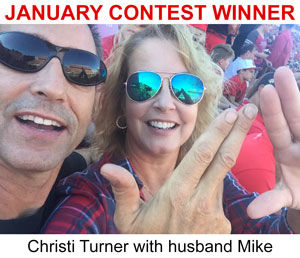 Congratulations to Christi Turner of Chenoweth Run Road who correctly answered fireworks and Big Ben's chimes to the following question:
In America the ball drops in Times Square to countdown to the new year. In London how is the new year rung in?
Crowds swamp the banks of the River Thames in London for the 12-minute fireworks display and Big Ben's bongs ring out across London at midnight.
Christi you win:
*A one month pass to LAC in Jeffersontown
*A $10 gift certificate from Hometown Pizza in Tyler Village
*A free car wash from Quick Wash in Tyler Village
*A free sandwich from Subway in Tyler Village
*A $5 gift card from 32 Degrees a Yogurt Bar in Tyler Village
*A $20.00 gift certificate to HomeTown Pizza courtesy John Bollinger of Mortgage Warehouse
*One free month of Stroller Strides, a $65.00 value from FIT4MOM Louisville