WELCOME TO YOUR NEW AND IMPROVED WEBSITE!
Your Sponsor

Stuart Conlon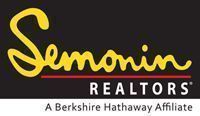 502.445.5024
[email protected]
Testimonials
We are so thankful that we hired Stuart as our agent! Stuart understands the market in our neighborhood extremely well and gave us excellent advice throughout. Stuart showed dedication above and beyond the call of duty when he showed up at our home at 6:30 in the morning to clean up trash that had blown all over our yard from a storm during the night, right before the scheduled walk through that day with the new buyers! We had already been relocated to Phoenix and of course were not even aware of this. Stuart also mailed us treasured photos that he found while cleaning up we had accidentally left behind for garbage! I could go on and on! Thank you so much! Brad & Lori Clark Saratoga View Court
view testimonials
Recently I hired a professional web designer to build a new state of the art website for Saratoga Woods. This site was originally established in 2003 by me, Stuart Conlon of Semonin Realtors, as a way to repay the community for all the support I had received. The site has allowed residents of the Saratoga Woods community to place ads, announce events, and communicate with each other. Your website has evolved from just a way of staying in touch to one of having detailed information beneficial to all residents, including the very popular monthly Newsletter. Information like the FAQs/Who To Call page, Deed Restrictions, and Pool and Clubhouse information. Also fun and money saving pages have been added such as the Tyler Village Coupons & Specials page, and the Neighborhood Contest page for Saratoga Woods residents only with $100 every month in prizes!
I asked residents what they would like in their new site and those who responded overwhelmingly said they liked their old site. To that end your new site still offers all the things you loved from the old site and much more. Your new site has a great new look starting with the beautiful slide show on the home page, and great new functions not possible before. Functions like: *Your new site 'scales down' so it looks just as good on your mobile phone or tablet as it does on a PC.
*You now have for the first time full integration with social networks. You can follow your site on social networks Facebook, Twitter, Google+, LinkedIn, and You Tube. You will get the latest updates direct on your news feeds. You can share or comment on any of our blog posts using your favorite social network accounts. *Surveys and polls can now be conducted on any issues important to the subdivision or just for fun!
In closing, I have paid all costs related to developing your website including startup fees, and monthly hosting fees.
Your continued support and consideration is greatly appreciated! If you or anyone you know are ever interested in buying or selling real estate please keep me in mind.
Stuart Conlon, REALTOR®
"Selling Saratoga Woods By The Yard"